The Nuckolls Fund for Lighting Education presented a record total of $85,000 for lighting education grants and awards at its annual luncheon at Lightfair 2010 held in Las Vegas on May 12. Topping this year's awards and grants was the special $50,000 grant that was given in celebration of the twentieth anniversary of the Fund's founding, presented to the University of Nebraska at Lincoln.
An innovative, multi-institution approach to lighting education, "Lighting Across the Design Curriculum," was the winning proposal submitted by Katherine Ankerson, associate dean of UNL's College of Architecture and professor in the Interior Design Program. Prof. Ankerson's project consists of a series of teaching modules applicable to architecture, interior design, and landscape architecture. Four universities are participating in the award-winning program: the University of Nebraska, Miami University of Ohio, Kansas State University, and the University of Texas at Austin.
An estimated 1,600 students will be able to access the seven interactive digital modules. "This is a very exciting project," said Jeffrey Milham, Nuckolls Fund president, at the award ceremony. "In the future, the Fund hopes to make these teaching modules available to an even broader audience beyond the four participating institutions," Milham told the audience of Nuckolls Fund supporters.
A $25,000 New Grant Option was approved this year by the Fund's Board to offer intensive study in lighting design to individuals beginning a new career, making a career change, or enhancing existing design or education skills. Recipient of the grant is Otis College of Art and Design, Los Angeles. Linda Pollari, chair of the Architecture/Landscape/Interiors department, will apply the grant to develop and activate a new lighting design certificate program at Otis. In presenting the award, Milham corroborated the Board's belief in the program's concept and success. "It has the enthusiastic support of so many of the Los Angeles area's well-known and well-established lighting designers."
Two awards of $5,000 each were given to outstanding students currently in lighting programs.
Milham reported that a total of $695,000 has been awarded over the past 21 years. The Nuckolls Fund was named in honor of the late lighting designer and educator, James L. Nuckolls, who led a dual career as a lighting designer as well as an educator and ardent champion of lighting education.
Contributions from the lighting industry provide the financing for the Fund to further its dedication to the profession and the educating of lighting design practitioners. Major contributions this year included: $20,000 from the Jonas Bellovin Memorial Foundation in memory of Jonas Bellovin; $7,500 from the Designers Lighting Forum of New York in memory of Todd Rosencrans;$7,000 from Barbara Horton Lees and Stephen Lees in memory of Jules Horton; $5,000 each from the Illuminating Engineering Society New York City Section, and Enterprise Lighting Sales in memory of Der Scutt; $5,000 from HLB Lighting Design in memory of Jules Horton; $2,500 from B-K Lighting and TEKA Illumination; $1,500 from the Illuminating Engineering Society, New Jersey Section; and $1,550 from several contributors at ILA Lighting & Controls to more than match the IESNJ donation.
Concluding the luncheon ceremonies was a presentation by 2007's $20,000 Nuckolls Fund grant recipients Penny Herscovitch and Dan Gottlieb who have created PadLab, a light, materials and environmental design studio at the Art Center College of Design, Pasadena. Their grant was used to initiate the interdisciplinary Advanced Light, Materials & Technology studio.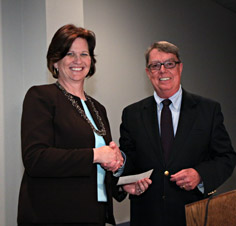 Katherine S. Ankerson, associate dean of University of Nebraska at Lincoln's College of Architecture and professor in the Interior Design program, accepts a check for $50,000 from Jeffrey A. Milham, president of The Nuckolls Fund for Lighting Education. The award will be used to implement "Lighting Across the Design Curriculum," a multi-discipline, multi-university approach to lighting education initiated by UN-L. Dean Ankerson was presented with the Twentieth Anniversary Grant at the annual Nuckolls Fund awards luncheon held this year at Lightfair International in Las Vegas in May. Photo by Lagniappe Studio.