The Past, The Future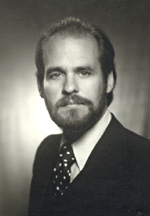 Though his design work received recognition, Jim Nuckolls' greatest impact on light was as an educator. He was a dynamic speaker who took the message of the importance of lighting across the United States.
At Parsons School of Design, he introduced lighting in the continuing education program and initiated the curriculum that allowed Parsons to become the first school to give a masters degree in lighting design.
He was instrumental in the development of the International Association of Lighting Designers, served as the first lighting editor for Interiors Magazine, and wrote "Interior Lighting for Environmental Designers," one of the first text books used to teach lighting in the United States.
With great energy and enthusiasm, he inspired tens of thousands of students and readers with a real understanding of the value of lighting in the built environment. The Nuckolls Fund can have no better mission than to continue his work