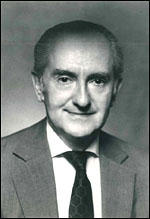 In 2007, The Nuckolls Fund added a new award to its already existing grants. With an exceptionally generous $200,000 pledge to the fund in memory of Jules Horton from HLB Lighting Design Inc., the Nuckolls Fund initiated the Jules Horton International Student Achievement Award. Mr. Horton was the founder of Horton Lees Brogden (HLB) Lighting Design Inc. which now has offices in New York, Los Angeles, San Francisco and Boston.
The word pioneer —
\pi' o-nir'\ one who opens or prepares others for a new line of thought or activity -is definitely synonymous with Jules Horton.
If one were to ask what Jules Horton contributed to the lighting design profession, it would have to be that he believed in lighting design and its future as a recognized profession. During his 35-year career, he mentored so many of us, not only as designers, but as leaders of the second and even third generation of lighting professionals. As many in lighting know, Jules used his worldly experiences, raw talent, determination, style and charm often to create exceptional design solutions. He thrived on challenges and fought for what he believed in-sometimes too hard, and in the process, lost the battle. Although he may have lost some battles, lessons were learned by all of those who learned from him. We understood his enormous passion for the search of excellence in lighting.
As many in the industry may know, Jules was a native of Warsaw, Poland and trained as a structural engineer at the Polytechnic Institute in Warsaw, and in 1947 came to the U.S. to obtain his Masters at Columbia University. He earned his PE but was always drawn to his passion for art, music, language and literature. His years at the Columbia University's International House connected him to an interesting circle of friends. One of the most significant people he met was Abe Feder, who introduced Jules to the world of architectural lighting. He apprenticed under Abe for several years and eventually left to start a lighting department with Syska & Hennessey. After several years of working on projects such as Madison Square Garden and the Triborough Bridge, he was asked to design the lighting of the Whitestone and Throgs' Neck Bridges for the 1964 World's Fair.
By the time Jules was ready to open his own firm, he had several large-scale, monumental lighting projects under his belt. The firm was launched in 1969 from his living room studio. He incorporated the firm in 1970 and opened a studio on Park Avenue South with the commission of one of his first large-scale projects for the Dallas Fort Worth International Airport with HOK. The project, like most airport projects, was several years in the making. Simultaneously, he developed a strong relationship with several prominent architectural firms across the country, which led to the design of several international projects including Jeddah International Airport, University of Petroleum and Minerals in Saudi Arabia and Tour de Credit Lyonnais in Lyon, France. His European background and fluency in English, Polish, German, Russian, French and Italian served him well.
Anyone who knew Jules could attest, while he could naturally boast of his many accomplishments in his career he most often tells stories of his survival in a Russian labor camp in the Arkhangelsk Islands, Russia which prepared him for many of life's challenges. When it came to truly discussing his innovations in the lighting design practice, he checked his enormous ego and became almost unaware of the impact that his visions had on today's architectural environment.
One of the most important attributes that Jules' shared in his practice was to always give people a chance to show their talent regardless of their past avocation, education or background. He always remembered his good fortune to be a young student in a foreign land that offered him the opportunity to become a successful individual in the United States. With his experience in mind, the Jules Horton International Student Achievement Award was formed to help international students who are earning a degree in lighting in the US to build their roots here to continue his opportunistic spirit.
Today, Jules' legacy has continued to thrive through the firm he launched in his early career and is known as Horton Lees Brogden Lighting Design Inc. (www.HLBlighting.com)
Jules Horton $5,000 International Student Achievement Award Recipients Since Inception
RPI's Lighting Research Center – 2008 recipient was Rui (Nancy) Qi
Texas Christian University – 2009 recipient was Alriah Pereira
University of Nebraska at Lincoln – 2010 recipient was Giang Nguyen
Parsons School of Design – 2011 recipient was June Park
University of Colorado at Boulder – 2012 recipient was Anastasiya Smurigyna
Pennsylvania State University – 2013 recipient was Minchen (Tommy) Wei
RPI's Lighting Research Center – 2014 recipient was Ukwatte L. Indika U. Perera
University of Nebraska a Lincoln – 2015 recipient was Arpan Guha
Parsons The New School for Design – 2016 recipient was Thomas Mnich
University of Colorado at Boulder – 2017 recipient was Fatema Almajed
Pennsylvania State University – 2018 recipient was Archanaa Pradhapan
RPI's Lighting Research Center – 2019 recipient was Rohan Nagare
University of Boulder at Colorado – 2020 recipient was Danah Boabbas
Parsons The New School for Design – 2021 recipient was Xiang Sun
Pennsylvania State University – 2022 recipient was Wangyang Song